Executive 4 Bedroom Apartment In Mombasa-Nyali For Sale-10.9M- Ref-788
From

10.9 M /=

/ Slightly Negotiable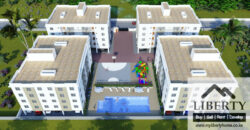 Description
Want to buy or rent an amazing apartment?
Executive 4 Bedroom Apartment in Mombasa-Nyali | Luxury Living at Its Finest
Experience the Epitome of Luxury Living at this Executive 4 Bedroom Apartment in Mombasa-Nyali
Welcome to the Tausi residence, an exclusive collection of luxurious apartments boasting a swimming pool. Nestled along the magnificent Tausi Road, these apartments are just a stone's throw away from the clean and sandy Nyali Beach. Conveniently located near the Nyali Police station and a short 10-minute drive to the vibrant Mombasa CBD, this development offers an exceptional lifestyle.
Experience the epitome of luxury living at this Executive 4 Bedroom apartment in Mombasa-Nyali. Whether you require ample space for multi-generational living or a safe environment that caters to your family's needs, these apartments prioritize your comfort and well-being. Embrace a wholesome community that nurtures your physical, emotional, mental, and spiritual health. Rest assured, this development takes care of your family and their needs.
Situated in the dynamic and thriving Nyali neighborhood, this Executive 4 Bedroom apartment in Mombasa-Nyali is located in a brand new development that is transforming into a cosmopolitan enclave. With its prime location on the magnificent Tausi Road, a mere stone's throw away from Nyali Beach and the bustling town center, you'll find a secluded oasis that allows you to indulge in activities you love with your loved ones. While surrounded by natural paradise, you'll remain well-connected to local amenities and excellent transport links. In today's busy and fast-paced world, this development offers the perfect balance—an extraordinary place where life truly makes sense.
Seize the opportunity to benefit from the wider regeneration happening within the Nyali area at this Executive 4 Bedroom apartment in Mombasa-Nyali. This project occupies an ideal location that caters to a multitude of lifestyles, providing you with the very best of Coastal Living. Nyali is renowned for its breathtaking beaches, diverse flora and fauna, fascinating animal parks, art galleries, museums, and eclectic entertainment shows.
As you explore this Executive 4 Bedroom apartment in Mombasa-Nyali, you'll discover unique features that elevate your living experience. From the gated and guarded environment to the single entry point with a security house, outdoor playground, swimming pool, spacious and well-ventilated rooms, sliding windows, high-quality tiles with excellent finishes, Cabro paved driveways and parking areas, as well as a backup generator for common areas, every detail has been meticulously designed to ensure your comfort, security, and convenience.
Don't let this opportunity to own an Executive 4 Bedroom apartment in Mombasa-Nyali pass you by. Contact us now to schedule a visit and immerse yourself in the perfect balance of luxury, well-being, and convenience offered by these exquisite apartments. Your family deserves the best, and we are here to provide it. Take the first step towards a refreshing and fulfilling place to call home at this Executive 4 Bedroom apartment in Mombasa-Nyali.
Buying a 4-bedroom apartment in Nyali, Mombasa presents a perfect investment opportunity for several reasons. Firstly, Nyali is a vibrant and sought-after residential area known for its beautiful beaches, upscale amenities, and proximity to essential facilities. With its growing popularity, property values in Nyali have shown a consistent upward trend, making it an attractive location for real estate investment.
Additionally, a 4-bedroom apartment offers versatility, appealing to both families and professionals seeking a comfortable living space. The demand for such properties remains high, ensuring a steady rental income or the potential for profitable resale. Moreover, the favorable investment climate in Mombasa, coupled with the city's robust tourism industry, enhances the prospects of long-term capital appreciation, making it an ideal choice for astute investors.
The increasing commercial activity in Nyali further adds to the appeal for families and investors alike. With a surge in business establishments, shopping centers, restaurants, and entertainment venues, the neighborhood has transformed into a vibrant hub for economic growth. This development brings forth numerous advantages for families, as they can conveniently access essential services and recreational options without having to travel far.
For investors, it signifies a thriving market with potential business opportunities and increased rental demand. The influx of businesses also contributes to the overall growth and desirability of the area, creating a positive investment environment and ensuring the long-term value appreciation of properties in Nyali.
This Executive 4 Bedroom apartment in Mombasa-Nyali is located in Nyali near Whiteball lounge.
Other Nyali Apartments for SaleTags: executive 4 bedroom apartment for sale, for Sale, Nyali Apartment for Sale
Buy this amazing Executive 4 Bedroom apartment in Mombasa-Nyali near Whiteball lounge and Great investment property to build a dream home.
Address
Address:
off tausi road, Mombasa, Kenya
Country:

Kenya

Province / State:

Mombasa

City / Town:

Mombasa

Neighborhood:

Nyali
Open on Google Maps
Property ID

788

Price

From

10.9 M /=

/ Slightly Negotiable

Property Type

Apartment

Property status

Sale

Rooms

8

Bedrooms

4

Bathrooms

4

Year Built

5/30/2023

Size 150 m2
Land area

0 Acres

Label

Hot Offer, Just Listed
Walk Score