How to Signup or Check Credit Balance for a Postpaid or Postpay Mobile Phone in Kenya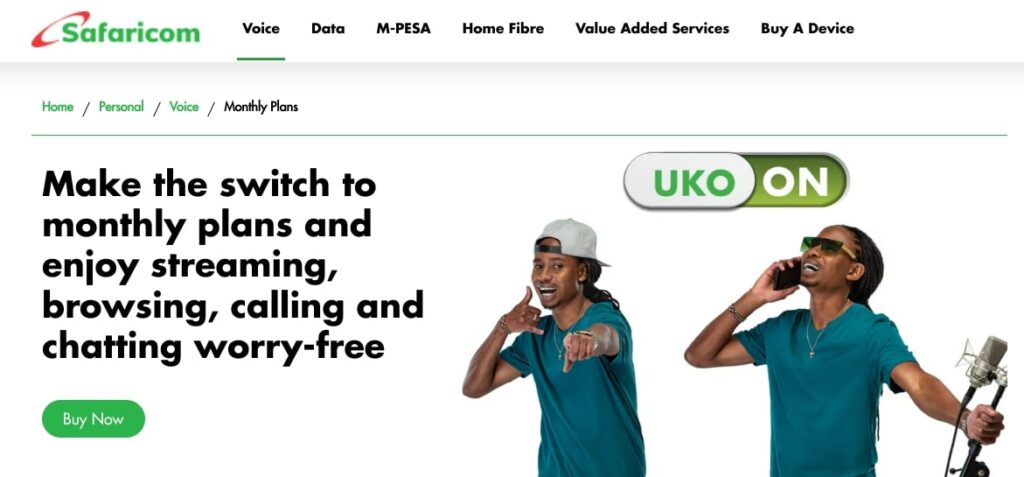 Understanding Postpay Vs Prepay and should you switch?
For over 10 years Safaricom, Airtel and Telcom has availed a PostPay experience to its customers. It is easy and hassle-free to join and this can be done in the comfort of wherever you are. In very simple terms…in Prepay…you buy airtime then you use that Airtime to buy data, make calls, and text. You pay in advance for what you will be using.
What is Postpaid or Post Pay?
In simple words in postpaid or PostPay, you pay after use. Your mobile provider will issue you a SIM card that will provife mobile services on credit for a billing periof of 1 month. You will:-
get a bundle of services that will include data, voice calls, and SMS's.
Use the bundle over the billing periof of 1 month
get and settle an invoice bill on your usage at the end of the month.
Is it that simple? Well, yes. But there are other simple things you need to understand down below.
How do I join or sign up for Post Pay?:
Signing easy!.
All you need to do is dial *544#, or use your mobile providers ap like mySafaricom or Airtel: App.
choose the option for 'Join Post Pay'.
The process is very simple, and in less than a minute you'll be on Post Pay.
FOR SAFARICOM: Individual Safaricom PostPay subscribers will dial *544# or *100#. Select "Join PostPay". Select subscribers will be informed of their monthly limits and they can opt to join PostPay with limits allocated or enter their preferred limits.
However, you will need to understand the following before joining
:
Credit Limit: You will be assigned and will pay a deposit that wll be your credit limit. Safaricom or Airtel may suggests a credit limit based on your past usage With the credit limit, you're essentially getting a zero-interest "loan" from Safaricom or airtel to use for the month to buy bundles, and pay later
.
Post Pay Bundles: You may ask yourself, what are the bundles for? They're special bundles for postpay users only. You can choose to buy them because they're well-tailored for different people, or you can choose to just be on Post Pay while buying whatever other normal bundle suits you. This means you can join Post Pay without a bundle, and use your credit limit to buy other things like Giga Bundles, Platinum bundles, etc.
When do I pay? A bill will arrive in your email at the beginning of every month detailing your spending, and how to pay. You'll have between the 3rd and 16th to settle your bill, and avoid being disconnected.
Post Pay Bundle options:
Let us look at the Safaricom or Airtel: PostPay bundles. They included airtime/minutes that can be used to make calls and sms's to all networks, Here are the bundles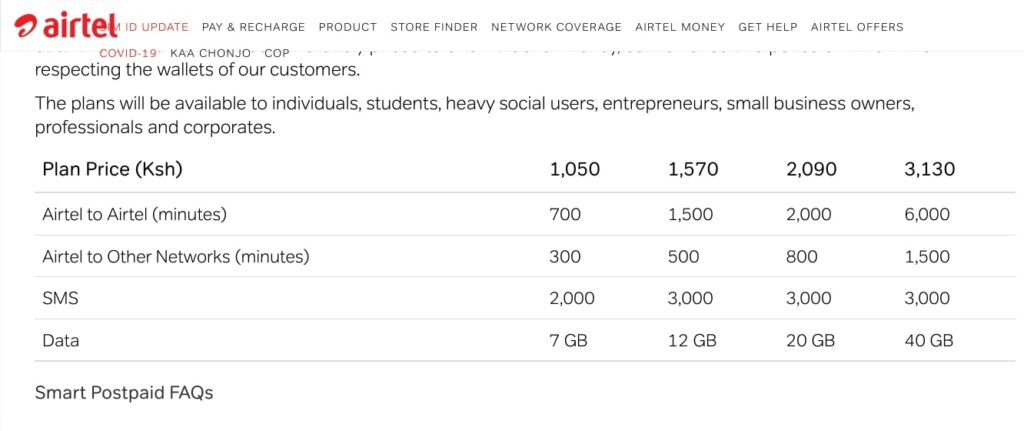 | Amount | Data | Minutes | SMS |
| --- | --- | --- | --- |
| KES. 1000 | 5GB | 400 | Unlimited* (FUP 1000) |
| KES. 2000 | 15GB | 1000 | Unlimited* (FUP 2000) |
| KES. 3000 | 25GB | 1500 | Unlimited* (FUP 3000) |
| KES. 5000 | Unlimited* (FUP 1Mbps speeds after 50GB) | 2500 | Unlimited* (FUP 5000) |
| KES. 10,000 | Unlimited* (FUP 1Mbps speeds after 100GB) | Unlimited* (Capped at 10000 minutes) | Unlimited* (FUP 10000) |
The KES. 1000 bundle is what many people will go with, I believe. It is a good way to see if the Post Pay life works for you. It is also a good way to limit spending in a month. For me, rather than constantly buying data bundles, and topping up airtime to make calls, with the 1000 bundle, I can survive the whole month with the data and minutes. If the data runs out, I still have that credit limit from which I can buy normal bundles. However, I cannot subscribe to a new post pay bundle once I'm on another. I'll have to wait for another month cycle.
After signing up:
So you've gone through the process:
You have either set your own credit limit or used what Safaricom or Airtel: suggested or even decided you're rich enough to go without limits.
You've chosen to either purchase a post-pay bundle from above, or you've decided to go without a bundle. You could even have decided to use your postpay credit to purchase a platinum bundle if that suits you.
You've confirmed everything and now you're on Post Pay. So what happens next? Well, first you get welcome messages from Safaricom or Airtel:
How can I check my Safaricom or Airtel PostPay bill?
You can access customer care through *200#. Your monthly bill will be sent through SMS and email.
How do I check my airtime balance with Safaricom or Airtel: PostPay?
All you need to do is dial *544#, or use the mySafaricom or AirtelApp.
How do I pay for my Safaricom or Airtel: PostPay airtime?
Dial *544# and select the option PostPay &All in one. You will be presented with a predefined credit limit. Customers with no credit limit will be prompted to enter their preferred limit and make payment via MPESA. You will be prompted to enter your email address for billing purposes.
How do I check my credit on Safaricom or Airtel:?
Using M-PESA
Select "Show balance" on the Safaricom or Airtel: App or select Check Balance on the M-PESA menu in your Safaricom or Airtel: sim tool kit.
Enter your secret PIN.
Wait for an SMS confirmation message with your balance.
All About AITEL Postpaid Mobile Phone Services
Here are the steps to check Airtel balance:
To check Airtel main balance, dial *123# and you will get the balance information in a moment.
For checking Airtel net balance, you can dial *123*10#
When you dial *121#, you will get the details about the various offers given away by the Airtel network.
When your balance is over and you want to take a loan balance for talk time or main balance, you can dial *141#
For checking Airtel Internet Balance, dial *121#
The USSD code to check the Airtel 2G internet balance is *123*9#